5/8/77 -- Happy Anniversary!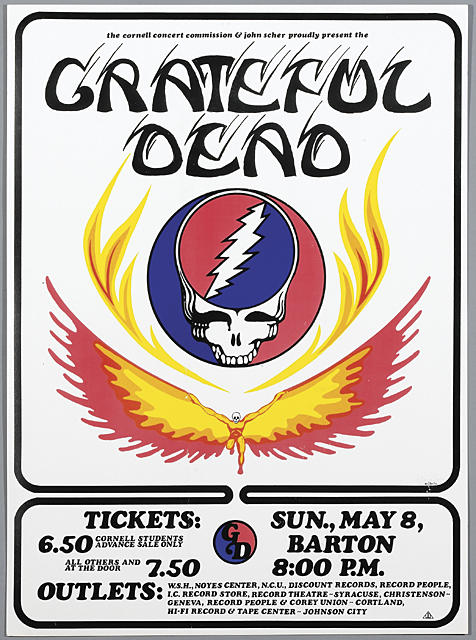 It was thirty years ago today!
One may argue about 3/1/69, or 8/27/72, or 2/14/70, or whatever, but scarcely any head will ever deny that THIS was pretty darn close to the best they ever got. For me, this show stands at the pinnacle of human improvisational achievement. This is as good as performance can get.
Here's the link to the show at LMA:
Barton Hall, Ithaca, 5/8/77
.
And here's an extract of a review posted a few years ago on the
GDH list
, by someone whose email address includes the phrase "charmed quark":
Oh yeah-there was music, wasn't there? Beautiful, transcendent music, played with an authority that I thought approached arrogance. They knew they were in the zone almost from the beginning, and just kept pushing it further and further throughout the night- an unspoken "So THERE!" hung in the air after the last notes of OMSN faded away...

This show also has some very special personal connections for me. It was the first full show I ever possessed.
Rahul
(THANKS!) slipped me the tapes when I visited Madras once on work for a couple of days. I took the tapes back to Bombay. A few days later, home early from work, I popped in the second set. The TAKE A STEP BACK! spiel was amusing, but the Scarlet>Fire (my first!) was absolutely transportational -- like nothing I'd ever heard before.
TPB was in the kitchen. I gave her the slip to come have a better listen. The phone rang. It was an international call. The gent at the other end was offering me an all-expenses-paid stint at graduate school -- the stuff of my wildest dreams. I listened, both ears scarcely comprehending, for a few minutes. Then I put the phone down. The fire was raging on the mountain.
I love that riff.
******
Once in a while you get shown the light

in the strangest of places if you look at it right
Let's all take a minute off to be happy for the good things in our world.